Md.'s Matthew Centrowitz Finishes Fourth in 1500m Race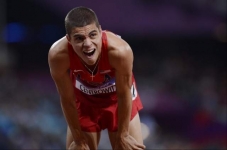 August 07, 2012
By Jean Marbella, The Baltimore Sun
LONDON - If the Algerian runner had stayed disqualified. If a fellow American hadn't surged past him near the finish line. If he had run .05 of a second faster.
Matthew Centrowitz almost medaled in the 1500 meter race here Tuesday night, but for several might-have-beens. But the 22-year-old graduate of Broadneck High School in Annapolis doesn't play that game, and is accepting the heartbreaker of a finish in his first Olympic Games.
"What I'm trying to swallow now is not a good feeling," the dejected Centrowitz said. "I can't be too mad at myself — it wasn't a terrible race — but at the same time, it's just so close to the medal."
Continue reading at: baltimoresun.com