Meet Coby Horowitz '14: Miler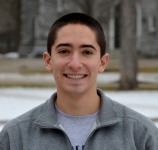 February 07, 2014
"There's a distance between a good Miler and a great Miler."
By The Bowdoin Orient
Coby Horowitz '14—10-time All-American, six-time Athlete of the Week, and holder of seven Bowdoin College records—continued his dominance at Farley Field House last weekend with wins in the 1000 meters and the Mile.
Next week, Horowitz expects to face his toughest challenge of the season at the Dave Hemery Invitational at Boston University, where runners from all three divisions will compete. Horowitz ran his personal best in the Mile at the event last year and is hoping to beat his own mark. He has already qualified for nationals, and is also preparing to run the 3000 with fellow senior Sam Seekins. He hopes one of them will break the only record not owned by the Class of 2014. All his other remaining races this season will feature only D-III runners.
Horowitz's records have come in races as short as the 1000 and as long as the 5000.
"He'd be an All-American if he ran only middle distance races, or if he loved the longer races like the 10K," said Head Coach Peter Slovenski. "He would be an all-star racer in that entire range."
Horowitz is currently the defending champion in the state meet Mile and the 1000m.
Continue reading at: http://bowdoinorient.com