Meet Jonah Gorevic: Mile World Record Holder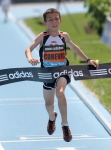 August 16, 2014
Before races, I always eat my dad's special buckwheat pancakes with chocolate chips.
By Yasmine Diarra, Youth Runner (July-Aug 2014)
On Saturday, June 14, 2014, Jonah Gorevic did what most do on race day…after his cereal and buckwheat pancakes, he threw his spikes in his backpack and left for the track meet. The only difference on this day is that Jonah shattered the world record in the Mile for a 10-year-old boy.
Last year, Nehemiah Skandera, 10, from Santa Rosa, California ran 5:05.3 for the storied distance and at the recent adidas Grand Prix meet in New York City, Jonah, as the crowd roared, clocked a faster 5:01.55, nearly going sub-5 minutes! Youth Runner caught up with Jonah post-Mile world record.
We hear you're a soccer player, any prediction on who will win the World Cup?
Brazil
Who do you like next to the Team USA?
Argentina
What position in soccer do you play?
Left wing
What is the name of your team or school that you play on?
Mamaroneck Tornadoes (soccer)
How do manage your school, running and soccer?
I run 2-3 days a week and play soccer 2-3 times a week. I usually don't do both on the same day which leaves time for homework and projects.
Kids want to know how you got started in running.
I've always loved running, and so three years ago, I decided to join a club called the Tailwind Track Club in Westchester, NY.
How many workouts a week do you do and what is a normal amount of mileage right now?
2-3 workouts, depending on my schedule. My normal mileage is 10-12 miles a week when I'm training.
Will you compete at Junior Olympics Nationals?
No, I will be at Sleepaway camp then.
When you had the record in mind what were you thinking about during the race?
I was calculating in my head what time I needed to run for each 400, based on what my last split was, to break the record.
How about at the starting line?
I was nervous, like I always am before a race so I watched the other races. Then at the crack of the gun, I just thought, "Go, go, go!"
What does a typical breakfast look like for you?
Bowl of cereal and granola with milk and fruit, most likely banana. But before races, I always eat my dad's special buckwheat pancakes with chocolate chips.
Any sports athletes you look up to as role models?
Lionel Messi – he's short, left-footed and #10 like me. I also saw Bernard Lagat run at the Millrose Games and he was super fast, so I was really excited to get a shout out from him on Twitter after my race.
Best school subject?
Recess. Just kidding – math.
Favorite color?
Blue
Last movie you saw?
Maleficent
Visit YouthRunner.com for the latest news, cool photos & videos and more!