Merber, Mackey Repeat as Aetna Falmouth Mile Champions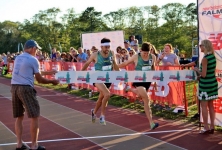 August 20, 2016
Manikas-Hill, Sessa win Tommy Cochary High School Mile titles
From New Balance Falmouth Road Race
FALMOUTH, Mass. — Kyle Merber and Katie Mackey both repeated as champions of the Aetna Falmouth Elite Mile on Saturday night with Merber winning for the second consecutive time and Mackey becoming the event's first three-time women's winner since it began in 1995.
Their victories marked the return of the Mile to Falmouth after a one-year hiatus, thanks to Aetna, the new title sponsor. The men's race couldn't have been much closer, with Merber, 26, edging rising star Colby Alexander at the finish line, 3:58.14 to 3:59.15, on a warm, breezy evening at the James Kalperis Track at Falmouth High School. Third was Ford Palmer (4:00.54), with Johnny Gregorek, who ran for nearby Seekonk High School, fourth in 4:00.60.
For the women, Heather Kampf led through 800 meters, with Stephanie Garcia close behind at the bell. Morgan Uceny, ranked #1 in the world in 2011, came up at the bell, but with about 150 meters remaining it was Mackey, 28, who took over for good and drove for home.
At the Bring Back the Mile Featured Event, Mackey broke the tape in 4:29.73, followed by 2012 Olympian Uceny in 4:30.97, Kampf in 4:31.29 and Cory McGee in 4:32.76.
Each winner received $3500 and Mackey also earned a $1000 time bonus for going under 4:31. Overall, $16,500 in prize money was awarded.
In the Tommy Cochary High School Mile, Zachary Manikas-Hill of Lexington High School won the boys race in 4:33.14 after finishing runner-up the past two years, while Rachel Sessa of Tewksbury High School took the girls race in 5:03.39.
Manickas-Hill is ranked #4 in the state for the Mile and is the New Balance Nationals Indoor Emerging Elite Mile Champion; Sessa is the 2016 state Mile champion.
Both winners will have a grant of $2500 awarded to their school in their name to be used in a way that implements change in athletics or wellness, such as new equipment, team uniforms or after-school wellness activities.
21st Aetna Falmouth Mile
Falmouth, MA, Saturday, August 20, 2016
MEN
1) Kyle Merber, Bronxville, NY, 3:58.14, $3500
2) Colby Alexander, Bronxville, NY, 3:58.15, $2000
3) Ford Palmer, Clinton, NJ, 4:00.54, $1250
4) Johnny Gregorek, Bronxville, NY, 4:00.60, $750
5) Garrett Heath, Seattle, WA, 4:01.01
6) Eric Avila, Eugene, OR, 4:02.05
7) Riley Masters, Seattle, WA, 4:03.07
8) Drew Hunter, Purcellville, VA, 4:06.71
9) Leo Manzano, Austin, TX, 4:07.60
10) Mac Fleet, San Diego, CA, 4:10.26
11) Daniel Winn, Brighton, MA, 4:11.52
12) Brandon Hudgins, Boone, NC, 4:11.82
WOMEN
1) Katie Mackey, Seattle, WA, 4:29.73, $4500*
2) Morgan Uceny, Brighton, MA, 4:30.97, $2500+
3) Heather Kampf, Inver Grove Heights, MN, 4:31.29, $1250
4) Cory McGee, Boston, MA, 4:32.76, $750
5) Shannon Osika Ann Arbor, MI, 4:34.09
6) Stephanie Garcia, Greenville, SC, 4:34.97
7) Emily Lipari, Boston, MA, 4:36.68
8) Lianne Farber, Sacramento, CA, 4:37.47
9) Megan Krumpoch, Newton, MA, 4:44.18
*includes $1000 bonus for sub-4:31 win
+includes $500 for sub-4:31
For more event information, go to: www.falmouthroadrace.com/mile-races