Mile Concludes Conditioning for Tar Heels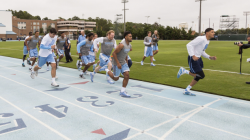 October 02, 2015
UNC forward Luke Maye clocks 5:06 to win by four seconds.
By Adam Lucas, GoHeels.com
The 2015-16 Tar Heels may have thought the week's consistently rainy weather might excuse them from Thursday afternoon's scheduled Mile run. The Carolina Mile is an annual end-of-conditioning tradition, and is normally a gateway to the start of practice.
But as the players gathered on the Finley track under overcast skies, Brad Frederick grinned when asked if there was ever any consideration of a weather cancellation. "Rain or shine," he said. "Rain or shine."
As Frederick—a perennial Mile run winner during his Tar Heel career whose junior year time of 4:36 remains the all-time record—observed, Roy Williams could have held an alumni Mile run in addition to the current team. David Noel and Sean May stopped by after the Mia Hamm Golf Tournament, and Wayne Ellington escaped Brooklyn Nets training camp in Durham to spend his afternoon in Chapel Hill. Joe Wolf, who is in his first year as a Nets assistant, also attended, using the occasion to visit Dean Smith's nearby grave.
Continue reading at: www.goheels.com