Mile Guide: 2013 USA Indoor Track & Field Championships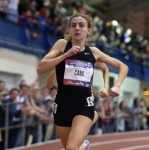 March 01, 2013
Can high school phenom Mary Cain win USA Mile title?
By Bring Back the Mile
There is something about pairing USA Championships and a Mile Guide, like a fine wine and good cheese, that sounds so good to us. American Milers will converge on Albuquerque, NM this weekend for Sunday's Mile finals at the USA Indoor Track & Field Championships and while there are no World Championship spots on the line (Indoor World Champs return in 2014) there are some great story lines to follow.
The story of the weekend will be the Bronxville, NY 16-year-old prep star, Mary Cain, who goes in as the favorite in the Women's Mile. Earlier this month Cain lowered her U.S. Junior record against many of the same faces she'll see in Albuquerque, to an astounding 4:28.25 at the Millrose Games' NYRR Wanamaker Mile. Her mark not only leads the country this year, but is also the second fastest in the world and makes her the 42nd American woman to break the 4:30 Mile barrier. Look out for Olympian Treniere Mosier and Mile veteran Sarah Brown to make things difficult for Cain.
On the men's side, it is Matthew Centrowitz's race to lose, going in with a five second best over Will Leer in 2013. Centro, who will be coming back from the 800 meters, is looking to win his second national title (first - 2011 USA Champs), but this is indoor track and the others aren't going to hand it over that easily. Along with Leer, watch Craig Miller and 2011 USA Indoor champion Jeff See who have proven to be start racers over the year.
2013 USA Indoor Track & Field Championships
Albuquerque, NM, Friday, March 1 - Sunday, March 3
TELEVISION
Mile finals are Sunday, March 3
Women's Mile Final: 4:44pm EST
Men's Mile Final: 5:13pm EST
USA Indoor Women's Mile Final Start List
Meet Record: 4:25.92, Regina Jacobs (CA), 2000
USA Record: 4:20.5, Mary Slaney (OR), 1982
World Record: 4:17.14, Doina Melinte (ROM), 1990
USA INDOOR TRACK & FIELD CHAMPIONSHIPS MILE FINAL - 4:44pm EST
NAME
TEAM
MILE PR
YR
DECLARED
Mary Cain
unattached
4:28.25i
2013
4:28.25
Treniere Moser
Nike
4:29.93i
2006
4:12.09 (1500)
Sarah Brown
New Balance
4:29.72i
2009
4:31.26
Sara Vaughn
Nike / Bowerman AC
4:34.29
2011
4:39.53
Emily Infeld
Nike Oregon TC
4:31.50i
2013
4:40.12
Dana Mecke
unattached
4:39.53i
2013
4:23.41 (1500)
Catherine Beck
Central Park TC New Balance
4:40.12
2013
4:23.66 (1500)
Erin Koch
unattached
4:45.20
2012
NM
i = indoor

USA Indoor Men's Final Start List
Meet Record: 3:52.99, Nourredine Morceli (ALG), 1991
USA Record: 3:49.89, Bernard Lagat (AZ), 2005
World Record: 3:48.45, Hicham El Guerrouj (MAR), 1997
USA INDOOR TRACK & FIELD CHAMPIONSHIPS MILE FINAL - 5:13pm EST
NAME
TEAM
MILE PR
YR
DECLARED
Matthew Centrowitz
Nike
3:51.34i
2013
3:51.34
William Leer
Nike
3:55.66
2010
3:56.35
Craig Miller
New Balance
3:54.2r
2012
3:56.85
Jeff See
Saucony
3:55.24
2011
3:57.43
Cory Leslie
unattached
3:56.85i
2012
3:57.81
Ryan McNniff
adidas Team Green Running
3:59.11i
2013
3:59.11
Matthew Elliott
Brooks
3:58.06
2011
3:59.96
Macklin Chaffee
unattached
3:59.01
2011
4:00.90
Mack McLain
Boulder Running Co / adidas
4:02.70
2010
4:03.57
Tommy Schmitz
unattached
3:58.40
2010
4:03.83
i = indoor / r = road