Mile trials scheduled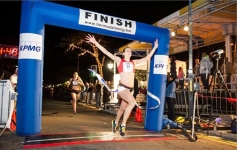 November 20, 2013
Fastest 20 Milers invited to 2014 KPMG Bermuda Invitational Mile; event registration open
From The Royal Gazette
HAMILTON, Bermuda - Junior and senior athletes will take to the National Sports Centre (NSC) track when the KPMG Bermuda Invitational Mile trials begin next week.
Trials for local runners will take place on November 29 at 6:00pm with the fastest 20 runners under eight minutes being invited to participate in the 2014 edition of the spectacle.
The Mile races will take place on January 17 to kick off the 2014 Bermuda Marathon Weekend.
"KPMG in Bermuda continues to support the Bermuda National Athletics Association (BNAA) in their efforts to invite participants to try out for the KPMG Mile Trials," said a KPMG spokesperson.
"This initiative has been a huge success for KPMG in Bermuda and the local community as it attracts international and local athletes alike to compete in the prominent event."
Continue reading at: www.royalgazette.com