Miler Christian Soratos Looking Forward to Pro Career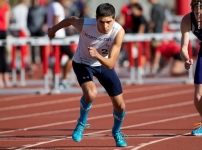 June 10, 2015
The 2015 NCAA Indoor Mile runner-up advances to 1500m final at NCAA Outdoor Track & Field Championships; looks forward to post-collegiate career.
By Parker Gabriel, Bozeman Daily Chronicle Sports
The NCAA Outdoor Track & Field Championships will mark the conclusion of Cristian Soratos' collegiate career, but not the end of his days as a track athlete.
With the performance Soratos has put together in his senior season at Montana State — really, since he arrived in Bozeman from Hartnell College before the 2012-13 season — the likelihood that his career will continue as a professional is perhaps the most impressive testament to his amateur resume.
Professional athletes hailing from MSU are a relative rarity as it is. Soratos has the advantage of a discipline that can be translated across levels of competition — he turned heads nationwide with a 3-minute, 55.27-second Mile in February at the University of Washington. However, as Bobcats head coach Dale Kennedy points out, the disadvantage is that pro track can't boast the number of roster spots that the NFL has or the developmental leagues where young baseball players cut their teeth.
Continue reading at: www.bozemandailychronicle.com