Miler Dana Dourdeville left a lasting impression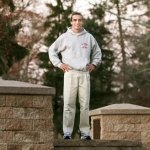 January 14, 2014
"I'm definitely proud of the stuff that I've done on my own, but it's nice to be able to contribute to a team and know you've helped the team move onto bigger and better things."
By Laurie Los, South Coast Today
On a bitter cold Saturday morning in February 2009, I walked into the Z. Walter Janiak Field House at GNB Voc-Tech not knowing much about the local track scene.
It didn't take long to figure it out.
As I stood inside the track oval surrounded by hundreds of athletes, one runner caught my eye.
It was Dana Dourdeville (photo above, Mike Valeri).
The Old Rochester sophomore was cruising around the track at the Janiak Freshman/Sophomore Invitational. When he crossed the finish line first, he had shattered the meet record in the Mile (4:43.1) by nearly five seconds (4:38.27).
And it wasn't even his best event. He had entered the meet ranked in the top 10 in the state in the 1000 meters, but wanted to go after the Mile record.
"I had seen (the record) online and I figured I had a chance to break it," a shy Dourdeville said just moments after reaching his goal.
Continue reading at: www.southcoasttoday.com