Minnesota Mile Set for Sept. 8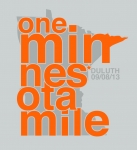 August 28, 2013
Garry Bjorklund 2014 Half Marathon entries to 250 finishers; 7th edition the 14th stop and finale of nationwide inaugural Bring Back the Mile Tour 2013
DULUTH, Minn. – The seventh running of the Minnesota Mile road race is scheduled for Sunday, Sept. 8 in downtown Duluth. This one-Mile event – hosted by Grandma's Marathon – is open to runners of all skill levels.
The Minnesota Mile offers runners a unique opportunity to secure a spot in next year's Garry Bjorklund Half Marathon, as 250 finishers will be randomly selected to receive guaranteed entries into the 2014 half-marathon on June 21. This is an excellent chance for runners to gain an automatic entry to the Garry Bjorklund Half Marathon without needing to enter the lottery system.
Registration for all divisions is available online at www.GrandmasMarathon.com. The pre-registration entry fee is $20 and late registration (September 7 and 8) is $30.
The race begins one block east of Fitger's on Superior Street and finishes near the Holiday Center.
The Minnesota Mile event includes a number of race divisions:
8:50am – Wheelchair Mile
9:00am – Verizon Wireless Kids Mile (Ages 8 to 14 - FREE)
9:20am – All City Mile (Recreational)
10:00am – Duluth Mile (Semi-Elite)
10:20am – Grandma's Minnesota Mile (Elite - $20,100 Prize Purse)
The Minnesota Mile is the 14th stop and finale on the nationwide inaugural Bring Back the Mile Tour 2013. For more on the Bring Back the Mile Tour, visit www.bringbackthemile.com.
The Minnesota Mile is presented by Advantage Emblem & Screen Printing, American Family Insurance, Duluth Running Company, Duluth News Tribune, ESPN Radio 560 WEBC, Fitger's, Holiday Inn & Suites, Kemps, KBJR 6 & Range 11, Super One and Verizon Wireless.
For more information or to register, visit www.GrandmasMarathon.com or call (218) 727-0947.