Miracle Mile's 60th anniversary to highlight Jerome Classic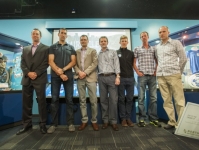 June 05, 2014
Breaking 4 minutes "was the epitomy of my sports career."
By Gary Kingston, Vancouver Sun
VANCOUVER - Sixty years after the Roger Bannister-John Landy Miracle Mile at the 1954 British Empire Games in Vancouver -- and long after the world went metric -- there is still a cachet attached to the distance.
The Mile is rarely run these days, perhaps at only a handful of major international meets. And going under four minutes isn't quite the barrier it once was.
But since 1976, the Mile is the only non-metric distance recognized by the International Association of Athletics Federations (IAAF) for record purposes.
On July 10, the Achilles Track Society, organizers of the Harry Jerome Track Classic at Swangard Stadium, will try to recreate some of that Empire Stadium magic when it stages what is being billed as a 60th anniversary Miracle Mile.
Continue reading at: www.vancouversun.com