Molly, 9, accomplishes her Mile mission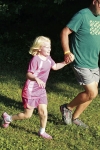 July 24, 2016
"This is tiring but I can do this. I can do this."
By David Troppens, Tri-County Times
LINDEN, Mich. — Molly Katic is just your typical active 9-year-old girl.
Her brothers love to run, so she loves to do it as well. For at least the last three years, Molly and the Katic family have been loyal participants at the Linden Summer Cross Country Series.
When Molly runs, she's not as fast as most of the other runners and occasionally may trip up and fall to the ground. But each time, she jumps up quickly and continues her race, and does so with a smile. One thing is certain She's going to finish the race.
There's a reason for her determination. Molly has Cerebral Palsey, making her run a physical challenge. Her runs also have made her the most inspirational runner at the weekly summer races held at Linden County Park.
Wearing her traditional pink attire, Molly had a new goal during the final race of the season on Wednesday. In the past, she had run the quarter-mile or the half-mile events. However, those races don't reach the wooded area of Linden County Park's 1 Mile loop, meaning Molly has never run in the wooded area. This time she was going to run the Mile-loop and run in the woods.
Continue reading at: www.tctimes.com