Monument's Jenny Simpson Finishes Last in Heat of 1500 Meter Semis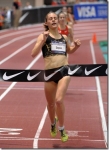 August 08, 2012
By John Meyer, The Denver Post
LONDON — A year ago Jenny Simpson ran what she called "the perfect race on the perfect day," winning a gold medal in the 1500 meters at the world championships. Pretty much the opposite happened Wednesday night.
Simpson, a Monument resident and Colorado grad, finished last in her heat in the 1500 semifinals. Her Olympics is over.
"I'm not sick, I'm not hurt, I'm not out of shape," Simpson said, breaking into tears. "I just had a shameful performance today, and I'm really sorry to all the people that care about me and work so hard with me."
The other two Americans in the race, Shannon Rowbury and Morgan Uceny, did advance.
Continue reading at: denverpost.com