Nash UNC Health Care Rocket Mile Hosts 2018 RRCA National Championship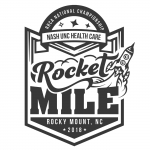 April 27, 2018
5th event edition celebrates storied distance for runners of all ages & abilities
ROCKY MOUNT, N.C. - Now in its fifth year, the Nash UNC Health Care Rocket Mile returns to the streets of Downtown Rocky Mount on Sunday, May 6 at 2:00pm as the Road Runners Club of America National Championship and the USATF - North Carolina State Championship. Boasting $1550 in prize money in the Men's & Women's Competitive races, and separate kids races that highlight endurance clubs from Benvenue, Englewood, Nashville, Red Oak, Spring Hope and Swift Creek, the event has become an annual for celebration for those from five to eighty five. Race day also marks the 64th anniversary of Roger Bannister running the first-sub 4 minute Mile.
"Rocky Mount is the perfect location for a fast road Mile! We are excited to continue the excellent tradition of this race as we highlight the revitalization of Downtown Rocky Mount and celebrate the history of the Mile," said Sandy Roberts, co-founder of Sir Walter Running and course record holder. "We're also excited that Nash UNC Health Care has returned as the title sponsor."
"Nash UNC Health Care is proud to support the Rocket Mile, promoting health and wellness in our community," said Lee Isley, Nash UNC Health Care president and CEO. "We are looking forward to a fun afternoon celebrating runners of all levels."
Along with the longtime title sponsor, the event has attracted new sponsors each year, as few races are as family friendly as the Rocket Mile, where parents can run the adult races; then can cheer, or run alongside their children in the kids events.
"The Nash UNC Health Care Rocket Mile is part of the growing Mile movement and "buzz" since our 2012 campaign launch. We love, salute and support outstanding community Mile events for runners of all ages & abilities, particularly ones that have a kid-centric component like the Rocket Mile," said Ryan Lamppa, Bring Back the Mile Founder.
Packet pickup, and late registration, for the event will be Friday night, May 4, from 6:00-8:00pm at First Friday at the Imperial Centre, as well as Saturday, May 5 (aka Derby Day) from 4:00-6:00pm at HopFly Brewing Co. at the Rocky Mount Mills.
"We created a fun beer that ties into the Kentucky Derby and also allowed us to experiment with some different brewing techniques. We're excited to serve it for Derby Day packet pickup," said Cam Schultz, HopFly Brewing Co. Owner and Brewmaster, who created a 'Mint Julep Blonde Ale' for the packet pickup and post-race party.
Race day registration, and late packet pickup, will also happen at the Imperial Centre from noon to 1:30pm, where the race starts and ends, and where the awards ceremony will take place. The race starts at 2:00pm and the awards ceremony will be at approximately 3:30pm. Webby's Shaved-Ice will be on hand to provide free refreshment for participants.
Visit therocketmile.com for more information including registration.
The Nash UNC Health Care Rocket Mile is directed and promoted by Sir Walter Running, a Raleigh-based USATF club. Sir Walter Running also produces the Sir Walter Miler, the Pop Up Miles & Pop Up Cross Country series, the Raleigh RunDown Downhill Mile, the Summer of Miles podcast and a series of Strava Challenges.