NCAA Indoor Mile Champ Wynne Running in Rarefied Air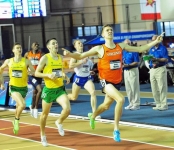 March 31, 2016
"I just loved the Mile, since that's kind of the track event that everybody knows about."
By Jeff White, VirginiaSports.com
CHARLOTTESVILLE -- Henry Wynne arrived at the University of Virginia in the summer of 2013. Had you asked Pete Watson then if Wynne might one day win an NCAA title, the UVA assistant coach would have considered that a realistic possibility.
"He had all the tools," Watson said recently, then smiled. "After he was here six months, I would have said, `Maybe not.' "
Talent never was an issue for Wynne, who's from Westport, Conn., but "he didn't do the little things," said Watson, who works with the men's distance runners.
Such as?
"Going to bed by 11 o'clock at night instead of being up playing video games at 2 in the morning," Watson said. "And eating was huge: He put on 10 or 15 pounds his first year here."
Continue reading at: www.virginiasports.com