Needham indoor track sees success this season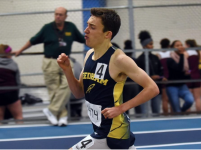 March 14, 2017
"The guys had a running bet with themselves, to see how many could finish (the Mile) in under 5 minutes, and we had 18 total."
By Mike Biglin, Wicked Local Needham
The Needham boys and girls indoor track teams faced similar hurdles for the 2016-17 season, as both squads lost the bulk of their scoring prowess, and were looking for new faces to fill some voids.
For the most part that happened, as the Rockets enjoyed successful winter campaigns. With a win in the crossover meet, the boys finished 3-3 in Bay State Conference action, while the girls surprised many by going 4-1 against BSC Carey division competition – their finest record ever in the wintertime.
Unfortunately, their lack of big-time competitors limited their success in the end-of-season meets, as the girls finished seventh out of 23 teams in the Division 2 state meet while the boys were 11th out of 29.
Continue reading at: www.needham.wickedlocal.com