New Kid on the Block: Who is Eli Krahn?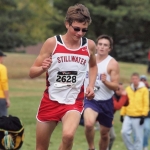 June 13, 2013
By Justin Britton, Flotrack
Eli Krahn, of Stillwater, MN has just set the freshman national record for 1600 meters, running 4:09.38 on June 8 at the Minnesota State Meet. He's the new kid on the block, but who is Eli Krahn?
He comes from a high school that has a history of strong distance running. In the late '90s, the Stillwater Cross Country team was so good, they were selected by USA Today/Harrier poll as the #1 team in the country and were given the nickname, "The magnificent seven."
Justin Britton was able to interview Krahn and give us a better insight about the next up and coming star in high school distance running.
Justin Britton: Who is Eli Krahn and how did you get involved in running?
Eli Krahn: Well I'm Eli Krahn. I'm a gangly freshman at Stillwater Junior High (moving up to the high school for sophomore year next year) who has spent his whole life living in eastern Minnesota with his mom, dad, and siblings (older sister, older brother, and younger brother). Neither of my older siblings or parents ran in high school, but they encouraged me to join cross-country in 7th grade cause I had always done well in school at running and so I decided to try it. I did pretty well, not the best, but I got a taste for the sport and that winter when my friend convinced me to join a half marathon I decided running was my sport and quit club soccer to run.
I really started running when I bought a Runner's World half-marathon training guide and followed it religiously until I set the 7th grade school record in the mile in 4:53 and later ran a 1:40 half-marathon (on a different day). That sucked so much that I then gave up all marathoning aspirations and decided I would be a miler. The next year in 8th grade I ran for the high school XC team and you have all the times from there.
For the rest of the interview, go to: www.flotrack.org