Newburyport's Carleo headed to New Balance Indoor Nationals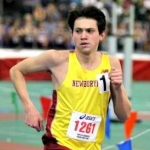 March 13, 2014
His goal is to finish in the top six and get a medal in the Mile
By Mac Cerullo, Sports Editor, Daily News
NEWBURYPORT — Over the years, Newburyport High School has cultivated a well-earned reputation as one of the premiere track programs in the region. Now, two local athletes will head to New York to represent the city at the New Balance Indoor Nationals meet.
Nick Carleo and Tom Graham, both juniors, have qualified for Nationals and will be competing in the one-Mile race and the 800-meter run respectively. Carleo qualified after winning the Mile at All-States with a time of 4:15.26, while Graham qualified by running the 800-meter in 1:59.50 earlier in the season.
The meet will be held at The Armory in Manhattan from March 14-16, and Newburyport distance coach Don Hennigar said he expects the meet will be a great experience for both runners.
"To even qualify for Nationals is really a tremendous accomplishment," Hennigar said. "It's a great experience to travel, to learn how to race. It's going to help them out down the road and it'll be interesting to see how they do down there."
Continue reading at: www.newburyportnews.com