Olympian Jenny Simpson stops in Siouxland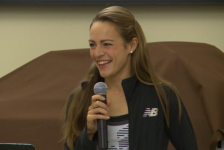 September 25, 2015
"It's a really really fun thing for me to come back to Iowa, see a couple of the groups that are always following my running career and spend a little time while I can."
By Brianna Clark, KTIV
When you have a grandchild that you're proud of, it can be hard to stop talking about their accomplishments.
Bob and Delores Barringer know this feeling all too well and so do their friends at the Spencer Area Action Club.
For more than a decade, the couple has shared many stories about their granddaughter, Jenny Simpson.
The 29-year-old is a professional runner who recently won the famed Fifth Avenue Mile for a record fourth time.
She's taken home the gold at the World Championships and has competed in the Olympics twice.
Jenny has fans all over the world, but her biggest fans happen to be in Spencer, Iowa.
And Wednesday, she got to meet them.
Continue reading at: ktiv.com