Olympian Shannon Rowbury Runs Her Game in Berkeley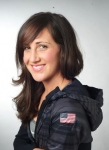 February 19, 2013
Although Rowbury lives in San Francisco, you may spot her during or after training around Berkeley.
By Hal Lifson, Berkeley Patch
San Francisco is home to the fastest female 1500-meter runner in the U.S. Shannon Rowbury, but Berkeley is where she logs a lot of her toughest Miles.
The 1500 is a grueling race, just short of a Mile: 3 and 3/4 laps around the 400-meter track. Shannon knows the distance well; she's been a champion runner since college days at Duke University. The 1500 is Shannon's specialty. Like the ZZ Top song, Shannon's "got legs and she knows how to use them!"
Currently, Shannon is training for the upcoming World Championships of Athletics this summer in Moscow. In order to make the U.S team, which would be Shannon's third appearance at the World Games (she won a bronze medal in 2009), she must finish in the top three in the final race at the U.S. National Championship this June in Des Moines, Iowa.
Continue reading at: berkeley.patch.com