Olympic Medalist Nick Willis Returns to What Works Best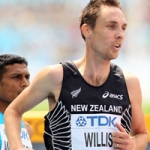 May 06, 2013
His 2013 approach mimics his 2008 Olympic silver-medal year.
By Peter Gambaccini, Runner's World
Nick Willis, New Zealand's 2008 Olympic 1500-meter silver medalist, will run the Medtronic TC 1 Mile on the roads in Minneapolis on May 9 and a 1500-meter race at the Diamond League meet in Shanghai, China on May 18. Willis has the fastest 1500 and outdoor Mile times thus far in 2013, a 3:34.68 1500 in Sydney, Australia and a 3:55.70 Mile at the Drake Relays. He won the B.A.A. Invitational in Boston the day before the marathon. Willis, 30, has a career best of 3:30.35 (in Monaco in 2012) for the 1500. He spends most of the year in Michigan with his wife, Sierra, and is coached by Ron Warhurst.
Your racing plans seem to be pegged to your upcoming fatherhood. When are you due to become a dad?
Nick Willis: June 28 is the due date. That's how I've talked about it, but truth is, we wanted to return to an approach that worked specifically in 2008 in the Beijing Olympic year. We're fortunate to be able to have the baby in a period when I'll have a back-off from racing.
Continue reading at: runnersworld.com