Olympic runner Lopez Lomong is a 'warrior inside'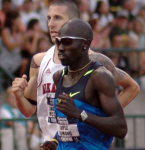 June 16, 2012
As part of USA TODAY Sports' "100 Olympic hopefuls in 100 Days" series, prospective U.S. Olympians give their thoughts on the Games in their own words.
By Karen Rosen, USA Today
Four years after Lopez Lomong carried the Star-Spangled Banner into the 2008 Olympic Opening Ceremony in Beijing, he still tells his story with unflagging enthusiasm.
Lomong, 27, was one of the "Lost Boys of Sudan." Separated from his family at age 6, he spent 10 years in a refugee camp before a family in Tully, N.Y., adopted him.
Continue reading at usatoday.com