Is it time to raise your ceiling?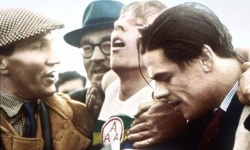 May 27, 2014
Even if you reach your goal, you have to ask yourself this question: Did I reach my potential?
By Dave Griffin, Carroll County Times
If you look-up the word "impossible," you'll find something similar to the following definition: Not possible; unable to be, exists or happen.
Once, many believed that a sub-4-minute Mile was impossible. That was before May 6, 1954, when Roger Bannister, a 25-year-old British runner did the impossible, running four laps of a 440 track in 3:59.4.
Bannister began running when he was a student at Oxford University. Lightly trained, but talented, he was considered a candidate for the 1948 British Olympic team, but he declined to pursue it, thinking he wasn't ready to run at that level.
But the Olympic races of 1948 inspired him to set his sights on the 1952 Olympics in Helsinki. He increased the intensity of his training, made the British team at 1500 meters and set his sights on a medal. He finished in a heartbreaking fourth place.
Life-long running was a rarity back then, and Bannister considered giving it up. I wish I could talk to the now 85-year-old. I'd like to hear his reflections about Helsinki. I'd like to know how he turned the disappointment into inspiration and then into the confidence that allowed him to believe he could break a barrier that stood between impossible and possible.
Continue reading at: www.carrollcountytimes.com