Ordinary man chases the dream – The Four Minute Mile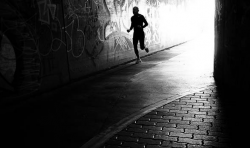 October 13, 2015
I want to do it, and yet I realize that there is a much greater chance that I will not be able to. I want to see how close I can get. I want to do the undoable and run the unrunnable.
Paul Shipper, The Good Men Project
I live an extraordinarly ordinary life. I have an ordinary job, live in an ordinary house and have a relatively ordinary family. I go to work, come home, feed and bathe my kids, put them to bed, and then, if I'm lucky and don't have any work to do, have a beer and watch some TV. On the weekends, I shlep my kids to their ballet classes and baseball games, birthday parties and lacrosse games. If my in-laws are available to baby-sit, sometimes the wife and I will go out with friends.
But I want to do something extraordinary. Not just extraordinary, epic. With a capital E. Epic. E.P.I.C., EPIC.
I want to run a 4 minute Mile. More specifically, I guess I want to run a Mile in under four minutes.
When I first thought of doing this about four years ago, I mentioned it to a friend at work, Rob, who is a runner. When I say he's a runner, I mean he is a serious runner. He and his wife went on a vacation during which they ran from Michigan to Minnesota. Or maybe it was Minnesota to Michigan, I don't know. But the point is, they started in one of the states and over a few days ran over 100 Miles into the other state. For fun. So I mentioned my idea to him.
Continue reading at: goodmenproject.com