Oregon Ducks senior Sam Prakel is all business, on the track and in the classroom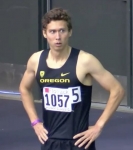 February 24, 2018
"I missed the big goal outdoors and that is something I'm still bummed about. Hopefully, I can make up for that this year."
By Ken Goe, The Oregonian
EUGENE - Oregon senior Sam Prakel figures to be a contender in the Mile at the NCAA Indoor Track & Field Championships in two weeks in College Station, Texas.
But before Prakel gets to the start line he must defend his Biochemistry thesis on hydrogen sulfide.
Scientists increasingly have come to understand hydrogen sulfide can be used to treat neurological and cardiovascular issues in people, a subject Prakel has been digging into when not training.
"I like to keep busy," Prakel says.
Clearly, focus and time management aren't problems.
"I don't think he ever has gotten anything below an A," UO men's distance coach Andy Powell says. "He's one of the favorite kids I've ever had. He's never been late to a practice. He's a great leader."
The leadership part of the equation became more important this year with the departure of 17-time NCAA champion Edward Cheserek, now running professionally for Skechers.
With talent comes responsibility. Prakel doesn't have Cheserek's list of accomplishments, but he has had marquee moments.
Prakel was a 1500 meter finalist at last year's USATF Outdoor Championship, is #3 on Oregon's career indoor Mile list with a time of 3 minutes, 56.89 seconds and was the men's college athlete of the meet at last year's Penn Relays.
Continue reading at: oregonlive.com