Orrson, Celona win Chase Mile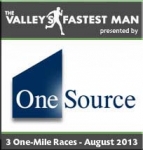 August 15, 2013
The first leg of the three-part Wyoming Valley's Fastest Man Competition tied to the Mile
By Jill Snowdon, The Citizens' Voice
WILKES-BARRE, Pa. - Marina Orrson is finally able to enjoy a summer of choosing local runs that challenge her talents and fit her schedule.
Orrson, a recent graduate of Misericordia University where she starred as a cross country and track runner, was limited in the past because of her commitment to the Cougars.
The 21-year old, however, isn't just entering runs, she's setting a standard. On Sunday she won the Pauly Friedman 5K run and on Wednesday night, the Lake-Lehman graduate was the first female finisher at The Chase Mile Run at Kirby Park. She finished in a time of 5 minutes, 22 seconds to capture the first leg of the three-part Wyoming Valley's Fastest Man Competition. Next Wednesday, competitors will run a Mile up Giants Despair Hill. The series concludes with a Mile run on River Street on Aug. 30.
"I'm glad I got to do this run this year," Orrson said. "I couldn't do the Mile series last year because I was running cross country for Misericordia. It's bittersweet because I'd love to still be running for them, but it's fun that I can do all the races that I would look at and want to do, but couldn't."
Orrson took an early lead in the second of three heats on Kirby Park's track. She pulled away from the pack almost immediately and cruised to the finish.
"I didn't know what to expect because I haven't run the Mile in a while so I was happy with it," Orrson said. "And I've never run a Mile on a dirt track before. With about 800 meters left I wanted to pick it up but I would lose my footing when I would hit the gravel on the turns."
The top male finisher, Phil Celona of Philadelphia, also had some trouble adjusting to the cinder track. But the Temple student adjusted in time to edge Chris Bodary at the finish line with a time of 4:27.6. Bodary was second in 4:28.8.
"When Chris came up with me with about 150 meters to go I tried to spring ahead so he wouldn't be able to get on the inside curve, but he did so I just held on through the turn," Celona said. "I've been doing some strides after runs which is a 50-meter all-out sprint so I guess that helped me a little in the end."
A total of 33 men and women competed in the run, including Rich Chase, the man whom the run is named in honor of.
Chase, 62, has been a long time supporter of running in the Wyoming Valley and has been battling cancer the last few years. He received a warm welcome and applause from the crowd after being introduced and finishing in a respectable 7:31.2.
Continue reading at: http://citizensvoice.com