Oviedo's Jenny Simpson sees Rio Olympics as best chance at medal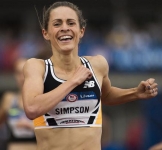 July 30, 2016
"Of all the things that I accomplished, what I am most proud of is my longevity.''
By Stephen Ruiz, Orlando Sentinel
Jenny Simpson is not slowing down as her 30th birthday approaches on Aug. 23.
Quite the opposite.
The former Oviedo High standout qualified for her third Olympics after winning the women's 1500 meters at the U.S. Olympic Trials this month in Eugene, Ore. She set an American record and placed ninth in the steeplechase in Beijing in 2008 and was ousted in the 1500 semifinals in London four years ago.
The soon-to-be birthday girl spoke with the Sentinel.
OS: What did you learn from your first two games?
JS: "The pageantry, fanfare and the universal interest [of the Olympics] is unparalleled to any event on the planet. While that is special, it can be overwhelming. I am glad to have two experiences behind me, because I will be better prepared to navigate a lot of the distractions and focus on my performance.''
OS: Does the pressure lessen?
JS: "The pressure is not more or less. It is just different. The first time I made the games in 2008, you are so happy to call yourself an Olympian, so happy to be there. I don't feel this pressure to become an Olympian and take in all these experiences, but I do feel the pressure that if I am ever going to win a medal, this is probably the best year to go after that.''
OS: How are you a better runner than in 2012?
JS: "In 2012, I had an overall disappointing year. It was exciting to make my second Olympics, but as far as fitness and my ability level, I struggled. Since then, my times have gotten a lot faster. I have become a stronger 1500 meter runner, but more importantly, I have become much more consistent. Throughout the season, I don't have good races and bad races. I am having great races all along.''
OS: What is your mindset heading into Rio?
JS: "After all these years of training and racing, I don't feel like I have to sharpen my mind. My mind is ready for the task. I know what it takes, so I don't really need [to race between the Olympic Trials and Olympics] to make me feel confident. What I want is to arrive in Rio as fit as possible.''
Continue reading at: orlandosentinel.com