Paul Robinson: The Iceman Runneth Sub-4:20 Mile in Arctic Conditions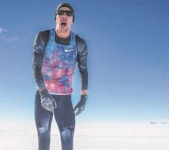 November 30, 2017
"The snow is not really deep, it's just energy-sapping... Your legs are going to jelly and I had this drone following me and I was like: 'I can't hit the deck, I have to finish.'"
By Cathal Dennehy, Irish Examiner
In normal conditions, Paul Robinson can smash 4 minutes for the Mile, but this was anything but normal.
Last Saturday, November 25, more than 10,000 miles from his home in Kilcock, the 26-year-old Irish athlete ripped across a snow-covered glacier and clocked what was, by some distance, the fastest Mile ever run in Antarctica.
"With the wind-chill, it was minus-20 when I ran," said Robinson, speaking on a layover in Santiago, Chile before flying back to Ireland. "It was so hard to warm up. I was wearing three layers of tights, this massive jacket, but you just cannot get warm."
Robinson, who finished fourth in the European 1500m final in 2014, had been flown there by Richard Donovan, an Irish ultra-runner who organizes the Antarctic Ice Marathon among other adventure races.
Donovan first contacted him three weeks ago to float the idea and Robinson, who was in the middle of his base training, jumped at the chance.
"Everyone can associate with the Mile and doing stuff like this is a great way to show how cool it is to run a 4 minute Mile," he said. "Both Richard and I appreciate that it's not confined to a track and can be raced anywhere, whether on the streets of Galway or New York, as I've done before."
Continue reading at: irishexaminer.com
Paul Robinson - Antarctica Sub-4:20 Mile from Global Running Adventures on Vimeo.