Pence, first lady promote healthy lifestyle through Mile walk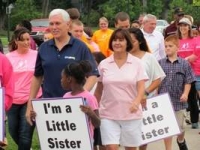 July 31, 2013
Indiana "Walk A Mile" campaign; "a healthy Hoosier is a more prosperous Hoosier."
By Matthew Glowicki, The News-Sentinel
As part of his statewide healthy lifestyle "Walk A Mile" campaign, Gov. Mike Pence, accompanied by first lady Karen Pence, took to the streets of Fort Wayne on Wednesday morning, hosted by Big Brothers Big Sisters.
"A healthy Hoosier is a more prosperous Hoosier," Pence said before the Mile-long walk to Foster Park.
Big brothers and sisters and their "littles" from all over the 13-county service area attended the morning event, as did Boy Scout Troop 333 and the 122nd Fighter Wing of the Air National Guard.
The governor briefly talked about his own lifelong struggle with weight, and encouraged the people of Indiana to leave healthy, active lifestyles.
Karen joked that those gathered Wednesday would walk a Mile with Mike but just a kilometer with Karen. The two have enjoyed going on walks together for the last 20 years, she said.
The Pences will stay in the area into the afternoon, presenting a grant to the Aboite Township Fire Department later in the morning and later hosting a town hall at noon at the Allen County Public Library, 900 Library Plaza.
Continue reading at: www.news-sentinel.com