Penn Relays: Sean McGorty Breaks Mile Meet Record With Year's Best U.S. High School Time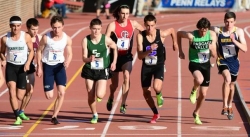 April 26, 2013
By David Rutz, The Washington Post
PHILADELPHIA – Sean McGorty's Mile run looked so easy, so effortless, that it was almost a shock when the announcement echoed over the loudspeakers at Franklin Field on Friday.
A new Penn Relays record. The new No. 1 high school time in the U.S. this year.
One very happy Chantilly senior.
Distancing himself from the pack after 200 meters to seize control of the race, he finished in a spectacular 4 minutes, 4.47 seconds.
"It's an amazing feeling," McGorty said. "Last year, it didn't really go my way. To win in a place like this, it means a lot. To be part of its history, that's even" better.
Continue reading at: washingtonpost.com