Peters, Leonard Win BMC Mile at Oxford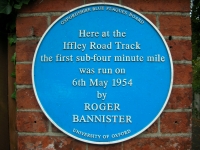 July 21, 2013
BMC celebrates 50th anniversary with classic Mile races at famed Iffley Road track; Peters, Mellor go sub-4
By David Lowes, Athletics Weekly
The BMC Grand Prix at Oxford on Saturday was the fourth in the series and a celebration of the organization's 50 years in existence.
With the event taking place on the hallowed Iffley Road track which saw the most momentous occasion in middle-distance history, the first sub-4 minute Mile by Sir Roger Bannister, the 1500m was dropped in favor of the Mile.
And so to the star attraction, the men's Mile. Could anyone break the 4-minute barrier and could anyone run faster than Bannister's 3:59.4 set 59 years ago on a then cinder track? The answer was an emphatic yes, and just like waiting for a bus, there was a double whammy.
Richard Peters came storming down the home-straight to stop the clock at 3:58.70, a performance he hopes may sneak him into next week's Emsley Carr Mile. Not to be outdone, Jonny Mellor also finished strongly and his reward was a 3:58.76 clocking – two excellent runs in not very helpful conditions.
Earlier, Alison Leonard failed to finish the 800 meters, citing problems with a lack of motivation, but later in the afternoon, and no doubt fired up by her failure over two laps, Leonard asked to be entered into the Mile and finished stronger than anyone else taking the race in 4:42.40 from Stevie Stockton who clocked 4:43.60.
There were youngsters on view too with the Peter Coe (male) and Frank Horwill (female) races for under-17 athletes, most of who had qualified via PB Classic races earlier in the season at Millfield, Milton Keynes and Corby.
In the girls' race Sophie Tooley (U15) took the title in 4:58.66 from Gemma Shepherd 5:01.58 and Lydia Hallam 5:05.21. In the boys' race George Elliott clocked 4:23.41 with a much quicker final two laps to take the title from Billy White (4:24.91) and Jamie Dee (4:26.98).
The Mile may be a thing of the past for many, but at Oxford the magic still remains.
Continue reading at: www.athleticsweekly.com