Poston Wins, Cridebring Crushes Course Record at HOKA ONE ONE State Street Mile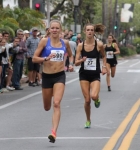 June 05, 2016
Brian Duff & Kaydom smash Dog Mile course record with a 4:13 clocking; 17th edition draws event record of more than 1,200 participants; inaugural Nobbe Amputee Mile and Finish Line Festival; race proceeds go to District Attorney's Crime Victim Emergency Fund
By Ryan Lamppa, Mile wire
SANTA BARBARA, Calif. – On a calm, overcast Sunday morning, Thomas Poston of Goleta and Alycia Cridebring of Davis, Calif. won close races at the 17th HOKA ONE ONE State Street Mile, clocking 3 minutes, 53 seconds and 4:23, respectively, over the gradual downhill, point-to-point course in beautiful downtown Santa Barbara. Cridebring, 23, crushed by 10 seconds the women's course record (held jointly by three women).
"At our 17th running, we had an incredible record-setting day not only racing-wise, but also with 1,200-plus participants, and it is always great seeing the smiling faces of the finishers and spectators, humans as well as dogs," said race director Megan Rheinschild. "A big 'thank you' goes out to our title sponsor HOKA ONE ONE, our volunteers, city officials and everybody who made this year's event one to remember."
In the men's Elite Mile, like recent editions, there was a large contingent together throughout the race, hitting 440 splits of 57 seconds, 1:57 (halfway) and 2:55. Poston, 23, a recent UC-Santa Barbara grad, surged in the final meters, letting out a victory scream, as he edged last year's fourth place finisher Scott Bauhs of San Luis Obispo at the finish line, both recording 3:53. UCSB assistant track coach Darius Terry followed right behind, clocking 3:54 for third. An event record-tying 6 men – also 2013 and 2014 – went under the coveted 4 minute mark, also Aric Champagne (3:55), Nick Scarpello (3:58) and Derek Thomas (3:58).
"The crowd really lifted me in the final stretch, it was like magic," said Poston. "At the end, I really went for it because I'm shutting down my season after this race, so I gave it everything that I had."
With the deepest women's Elite field in the State Street Mile's history, the longstanding course record would be challenged, and the top women did not disappoint as like the men, there was a large group together from start-to-finish, hitting the halfway point in 2:11. At the end, Cridebring produced the best finishing kick to edge recent UCSB grad and 1500 meter school record holder Tori Tsolis, 4:23 to 4:24, followed by Kristen Findley and defending champion Tracee van der Wyk in 4:29, respectively. All four women were well under the previous course record of 4:33.
"This is my second road Mile and second victory, so I'm pretty happy. I knew the field was good and we pushed each other all the way to the finish. It was a great day to race in Santa Barbara!," commented Cridebring, a UC-Davis grad and SRA Elite athlete who is looking to qualify in the 5000 meters for the upcoming U.S. Olympic Track Trials in Eugene, Oregon.
Both overall State Street Mile champions earned $1000 with Cridebring also taking home the $1000 course record bonus.
In the Elite Masters races (40 & older), Jerome Vermeulen, 49, from Simi Valley, Calif. and defending champion Nancy Thomas, 46, from San Francisco, won overall titles in 4:18 and 5:01, respectively. Vermeulen also claimed the top age-graded male Masters title (97.86%) as did Thomas for the women (94.52%), both pocketing $175.
The inaugural Nobbe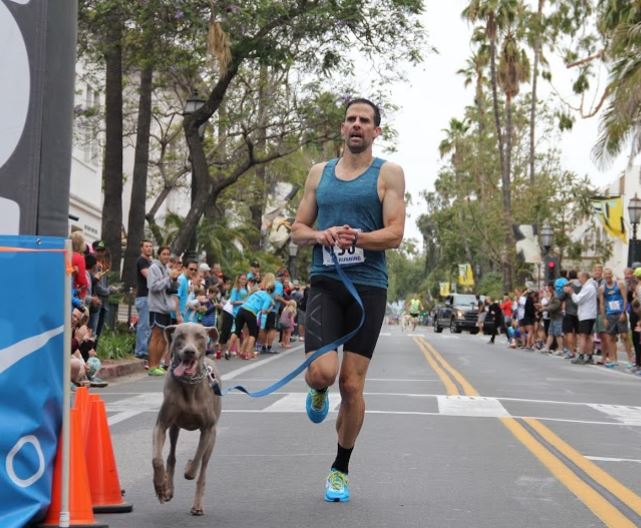 Amputee Mile champions were Gilberto Alavez, 55, Los Angeles in 5:42 and Karen Aydelott, 70, San Luis Obispo, CA in 13:58.
The crowd-pleasing Platinum Performance Dog Mile, the unofficial world championship, was again staggeringly fast with Brian Duff (age 39) & Kaydom (a 5-year-old Weimaraner) clocking a hard-to-believe 4:13, the fastest known human-dog Mile performance (photo, left). The previous event record was 4:15 by Josh Helton & Bro from last year, beating Duff & Kaydom from Los Angeles. The female human-dog winners were Mary Jones & Nala (5:17) of Ventura, CA.
Divisional race records were set by:
10 & under (new division this year)
Aidan Scott, 10, Solvang, CA, 5:24
Amanda Gable, 10, Goleta, CA, 6:30
30-39
Cory Smith, 37, Santa Barbara, CA, 4:16
Under a marine-layer, race day started with nine age group categories (10 & under, 11-14, 15-19, 20-29, 30-39, 40-49, 50-59, 60-69 and 70-plus) followed by the popular YMCA Family Mile, inaugural Nobbe Amputee Mile, the Masters & Elite Miles and capped off with the not to be missed, tail wagging Dog Mile.
An event record guaranteed prize purse of $6700 was available (Open and Masters 40-plus age-graded) plus $1000 for the women's course record, and new this year: a $1000 prize purse for the Nobbe Amputee Mile (above and below the knee divisions with cash prizes to the top 3 finishers in each category). The State Street Mile was again part of the local SBAA Grand Prix and Junior Grand Prix Series.
Also new this year was the Finish Line Festival on De La Guerra Street with music, a bounce house and face painting plus post-race breakfast burritos in partnership with Country Catering.
All event proceeds will go directly to the District Attorney's Victim-Witness Assistance Program's Crime Victim Emergency Fund.
The HOKA ONE ONE State Street Mile is also a Bring Back the Mile Featured Event, showcasing the best Miles in America and throughout the year.
17th HOKA ONE ONE State Street Mile
Santa Barbara, CA, Sunday, June 5, 2016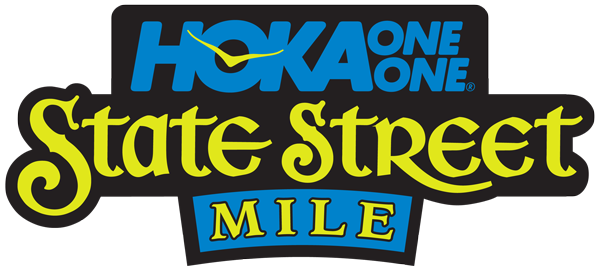 MEN
1) Thomas Poston (CA), 3:53, $1000
2) Scott Bauhs (CA), 3:53, $750
3) Darius Terry (CA), 3:54 $500
4) Aric Champagne (CA), 3:55, $250
5) Nick Scarpello (CA), 3:58
6) Derek Thomas (CA), 3:58
7) Andrew Daedler (CA), 4:00
8) Robert Blackwell (CA), 4:02
9) Tommy Schmitz (CA), 4:02
WOMEN
1) Alycia Cridebring (CA), 4:23*, $2000#
2) Tori Tsolis (CA), 4:24, $750
3) Kristen Findley (OR), 4:29, $500
4) Tracee van der Wyk (CA), 4:29, $250
5) Ayla Granados (CA), 4:36
6) Arielly Conde (CA), 4:40
7) Jill Deering (CA), 4:41
8) Liza Reichert (CA), 4:45
9) Danielle Domenichelli (CA), 4:48
*course record (4:33, Melissa McBain, 2005; Tara Erdmann, 2012 and Tracee van der Wyk, 2015)
#include $1000 course record bonus
MASTERS MEN (40 & older) – age-graded
1) Jerome Vermeulen, 49, CA, 4:18 (97.86%), $175
2) Todd Straka, 49, CO, 4:20 (97.10%), $100
3) Tim Strand, 48, CA, 4:42 (88.81%), $75
MASTERS WOMEN (40 & older) – age-graded
1) Nancy Thomas, 46, CA, 5:01 (94.52%), $175
2) Fran Finney, 61, CA, 6:27 (89.81%), $100
3) Tabitha Elwood, 43, CA, 5:10 (88.56%), $75

For complete results and more, go to: www.sbmile.com
Facebook photo gallery HERE.