Prep stars Hannah and Haley Meier reflect on 'once in a lifetime' race at U.S. Olympic Trials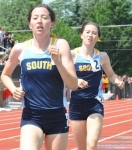 July 02, 2012
By Jared Purcell, Michigan Live
By this point, Grosse Pointe South twins Hannah and Haley Meier are so used to racing on big stages and in the spotlight that nothing can catch them off guard.
Well, almost nothing.
On Friday, the twins participated in the Nike Elite 1-Mile high school race along with seven other elite prep runners from across the country during the U.S. Olympic Trials festivities at historic Hayward Field in Eugene, OR. With Olympic-class athletes walking around the facility, it was hard for the two girls not to be star struck.
Continue reading at: mlive.com