Preserving David Torrence's Memory in the Sport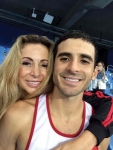 January 06, 2018
"David knew he had greatness in him and wasn't afraid to step up to the plate swinging for the fences. I hope this sentiment becomes an enduring part of his legacy. His bold efforts and bright spirit deserve it."
By McKenzie Jackson / Special to The Malibu Times
David Torrence, a world class athlete, was running toward a set of goals he hoped to capture on and off the track before he died last August.
In the wake of the professional middle-distance runner and Olympian's death, many others, including his mom, Realtor Bianca Torrence, have grabbed the baton to carry on Torrence's memory of athletic achievements and the good works he wanted to complete when not racing for victory.
Bianca said she wants to accomplish David's off-the-track aspirations, such as organizing running clinics for youth in Peru, the South American country the Malibuite represented in the 2016 Summer Rio Olympics in Brazil, and advocating for track & field to be free of performance-enhancing drugs.
"Whatever David wanted to do, I'm doing for him," she said. "That's what keeps me going. It's so hard to lose my son, my friend, my coach, my inspiration. It's been tough, but I'm really proud of all his accomplishments and the impact he had on the whole world."
Torrence, a pro runner of nine years, competed in the Mile, as well as the 800, 1000 1500, 3000 and 5000 meter races across the globe. He represented his mother's birth country in the Olympics and in more than a dozen races afterward. The former University of California at Berkeley runner set a few Peruvian running records in 2016 and 2017, including the country's first sub-4 minute Mile, and was looking to set more running high marks for Peru and South America before he was found dead by an apparent drowning in the pool of a Scottsdale, Ariz., apartment complex on Aug. 28. Torrence had been training in Arizona.
Continue reading at: malibutimes.com