Pro Q & A: Craig Miller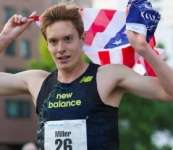 May 02, 2015
Medtronic TC 1 Mile headliner talks race goals, motivation and training; annual race set for Thursday, May 14, second stop on 2015 BBTM Grand Prix Tour.
From Twin Cities In Motion
Craig Miller, the 2012 Medtronic TC 1 Mile champion who will return to the event this year, answered some questions recently for TCM Blog readers. The University of Wisconsin alumnus talks, among other things, about his favorite workout for the Mile and what motivates him.
What's your goal for the Medtronic TC 1 Mile?
My goal for the TC 1 Mile is to run as hard as I possibly can. If I do that, then I will be happy with myself no matter what place I get, but of course I want to win the race.
What is your favorite speed workout when you're training for the Mile?
My favorite speed workout is (600m, 400m, 300m) x 2 at Mile race pace or a little faster. Then 4 x 200m at 800m race pace.
Continue reading at: www.tcmevents.org