Proud parents watch Presson qualify for Olympic Trials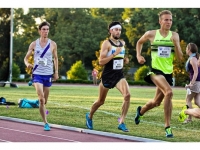 June 04, 2015
"My dad was there with me the first time I broke 4 in the Mile back in summer of 2013 in Nashville, but having both there at our home track was a great feeling to be able to step off the track and hug them."
By Bob Berghaus, Citizen-Times
Susan and Dean Presson don't get a chance to watch their son, Isaac, run much anymore.
The former Asheville High and University of North Carolina standout lives just 60 miles away and is a member of Furman Elite, a professional track program in Greenville, South Carolina. But most of Presson's meets since he joined Furman Elite have been on the road, leaving his parents to monitor his progress with phones calls and emails.
But last Saturday, Susan and Dean got to witness something special when 23-year-old Isaac qualified for the 2016 U.S. Olympic Trials with a blistering time in the 1500 meter run at the Open and Masters Classic at Furman University.
Running against a strong field, Presson finished fifth in 3 minutes, 37.06 seconds, shaving more than three seconds off his personal record while being one of seven runners to break the meet record.
His performance also earned him an invitation to the 2015 USA Track & Field Championships on June 25-28 in Eugene, Oregon.
Continue reading at: www.citizen-times.com