Purrier St. Pierre, Hoare Capture WHOOP Wanamaker Mile Titles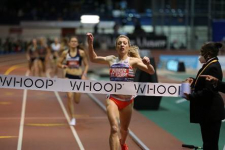 January 29, 2022
Nine men go sub-4 with veteran Willis clocking sub-4 for record 20th consecutive year
From Millrose Games media
NEW YORK - Both the WHOOP Wanamaker Mile races lived up to their expectations Saturday afternoon during the 114th Millrose Games at The Armory's New Balance Track & Field Center.
Defending champion and U.S. indoor record holder Elle Purrier St. Pierre controlled the race for the wire-to-wire win with a world leading time of 4:19.30, just ahead of Josette Norris of nearby Tenafly, NJ who set a personal record of 4:20.81 (#3 U.S. woman all-time indoors), and 2019 race champion & German Olympian Konstanze Klosterhalfen was third in 4:22.59.
Australian Olympian Olli Hoare, the 2020 Wanamaker Mile runner-up, gave himself a 25th birthday present with a winning time, personal record and indoor national record of 3:50.83, ahead of 2020 Tokyo Olympics 1500m bronze medalist Josh Kerr (3:52.27, a Scottish indoor record) and American Colby Alexander (3:52.84, PR).
Both champions also recorded the fasted Mile time per gender in the month of January, and Hoare is also the first Aussie to win the Wanamaker Mile.
"This is my first race back since Tokyo," Purrier St. Pierre. "This was a different year and a different race (then the 2020 Wanamaker Mile). I'm coming off a big season and I did not have a lot of expectations."
Said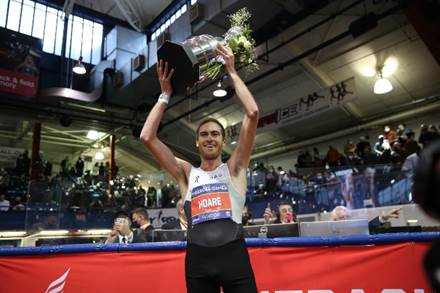 Hoare, hoisting the large silver Wanamaker Mile trophy afterward: "I came into the new year truly confident. Josh and I have been going back and forth since college. I wanted to get in the pace and be very relaxed. When Josh passed me, I was a bit surprised. For me, it was a great race and I ran a great last 400 meters. This was a great birthday present and I'm very happy to be here at this extravagant event."
Overall, nine men ran sub-4 minutes, including five-time Olympian and two-time Olympic medalist Nick Willis, who finished 9th in 3:59.71, marking (and extending) his record 20th consecutive year sub-4 for the evergreen 38-year-old.
"Twenty years," said Willis, "this puts a cap on it. It's a special moment and it's a very humbling opportunity."
Complete Millrose Games 2022 results HERE.
CREDIT: John Nepolitan