Q&A: Grant Fisher discusses XC, track & his future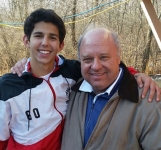 January 15, 2015
It's pretty important to have your tactics pretty straightforward because a lot of times the fastest guy in the field may not win. The smartest guy wins the race.
By Don Kopriva, Track & Field News
Grant Jackson Fisher was born April 22, 1997, in Calgary, Alberta, and lives in Grand Blanc, Mich. He is 5-10 / 135. He will graduate from Grand Blanc High School this spring and in November committed to Stanford University. He is coached by Mike Scannell.
Last month, he became the second Michigander (also Dathan Ritzenhein) to win two Foot Locker national cross country crowns. He won the high school Dream Mile at the adidas Track Classic last spring in a PR 4:02.02 and followed with a win in the Brooks PR Invitational in 8:51.28, another PR.
Here are excerpts from a question-and-answer session with veteran Track & Field News correspondent Don Kopriva.
Q. How and when did you get started in running?
Fisher: I started running when I was in seventh grade. I had begun playing soccer when I was about 4. At the time that I started running cross country, it was 100% something I did for fun. I didn't take it seriously and the training wasn't serious either. I think we put in 10-mile weeks at max and then we started complaining about overtraining and stuff. I enjoyed it but I was a soccer player at heart. I liked it enough that I wanted to try track, too. A lot of my friends were in track so I went out to hang out with my friends and have a good time doing it.
It was the same thing in eighth grade and although training wasn't anything to speak of, it was fun. We'd get out there and race and go to practice. Actually, at the time, I was a pole vaulter. I barely ran, just laid there in the pole vault pit. I think my PR was 8 feet. If we had a long run, like 2 miles, scheduled for that day, then everyone would become a field event specialist.
Continue reading at: http://trackandfieldnews.com