Q&A: Joslin Sellers engineers final success on the track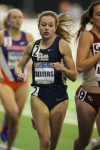 April 13, 2017
I had no idea that I did break the school Mile record until I looked up on the board afterwards and saw my time. I was so happy. It was awesome!
By Mackenzie Rodrigues, The Pitt News
Senior distance runner Joslin Sellers has been carving out her spot on the track since the seventh grade.
This year, as she finishes up a nearly ten-year running career, she solidified a high-ranking position in Pitt history after finishing the 2016-17 indoor season with not one but two record-breaking performances.
Sellers broke Pitt's program record in the Mile with a time of 4:43.33 — beating Maureen McCandless' 2005 record of 4:44.00 — at the ACC Indoor Championships on Saturday, Feb. 25. At the same competition, she ran as the anchor for the distance medley relay team that set the school record with a time of 11:18.78, previously 11:31.99 from 2016.
Although she's a senior, Sellers took time off to participate in Pitt's co-op engineering program— meaning she still has one more year of eligibility as a Pitt athlete. She will race in her final season for the Panthers' cross country team next fall as she finishes up her degree in chemical engineering, works toward joining the workforce and plans to pursue a business degree.
The Pitt News talked to Sellers about balancing her time as a student athlete with a rigorous major and about reaching the apex of her fast-paced career: setting a record in Notre Dame, Indiana.
Continue reading at: www.pittnews.com