Q&A with Kyle Merber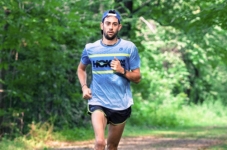 February 09, 2017
Gearing up for Millrose Games' Wanamaker Mile, training and being a New Yorker
By Paul Snyder, Citius Mag
I hopped on the phone with my friend and former teammate, Kyle Merber, to chat about his upcoming appearance in the Wanamaker Mile. I figured I'd write up a tidy little page-long narrative about how good he feels, and how he hopes to win.
What instead transpired was a sprawling half-hour conversation about training philosophy, the future and what makes someone a New Yorker (that last part was cut short because Kyle had to go eat sushi.) Here are some key excerpts from the transcript.
Paul Snyder: You grew up on Long Island. You went to Columbia. You now live in Hastings on Hudson, after a few years in Clinton, NJ. Besides your nine-month stint in Austin, TX, during your fifth year at UT, you've spent your entire life within about a 60-minute drive of the Armory. Is anyone in the field this year for the Wannamaker Mile that is as New York as you?
Cpntinue reading at: www.citiusmag.com