Q&A with Mary Cain & Katelyn Tuohy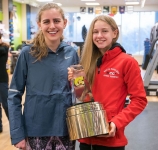 February 09, 2018
"Yeah, I think just in that I learned what I should and shouldn't expect as a runner and I learned what I can and can't balance as an athlete in terms of training, expectations, and experiences and all that sort of stuff."
By Jonathan Gault, LetsRun.com
On Wednesday afternoon, Mary Cain surprised North Rockland (NY) High School sophomore and 2017 NXN champion Katelyn Tuohy by presenting her with the 2017-18 Gatorade National Girls Cross Country Runner of the Year Award at the New Jersey Running Company in Montvale, NJ. LetsRun was able to speak with both Cain and Tuohy over the phone shortly after the event.
Cain, 21, who made the World Championship final in the 1500 meters following her junior year of high school and became the first American to win World Junior gold in the 3000 meters in 2014, missed the entire 2017 season due to injury but is back training and plans to return to racing this summer. We chatted about her injury, what she learned during her one year in Portland (she attended the University of Portland as a freshman in 2014-15 while training with the Nike Oregon Project), and what she's enjoyed about being back home in New York, where she is a student at Fordham University and trains under coach John Henwood.
LRC: Mary, what is your situation right now? Are you still at Fordham? Are you still running for Nike? Are you training with John Henwood?
MC: Yes to all of the above.
And are you a senior now? Are you on track to graduate in the spring?
I'll actually graduate next spring since I took a gap year sophomore year.
What are you majoring in?
I'm a business administration major and I'm also pre-med.
Obviously, you didn't race last year. Can you explain why you weren't racing?
Yeah, I ended up getting a stress fracture in my shin because I ran through a calf strain, which I shouldn't have done. And so I ended up having to miss the outdoor season. And then for this [year], it made sense to more focus on getting in shape and getting fit for the outdoor season rather than trying to rush an indoor [season in 2018].
Continue reading at: letsrun.com