Q&A with national champ Karisa Nelson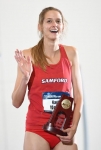 April 08, 2017
"When your dreams actually come true, it kind of blows your mind, especially when nobody else thought it could happen but you and a couple other people."
By Sam Chandler, The Samford Crimson
The pain etched across Karisa Nelson's face as she tore down the final straightaway at the NCAA Division I Indoor Track & Field Championships turned into a broad smile the moment she crossed the finish line.
She couldn't mask the joy welling inside her. She didn't have to.
On March 11, Nelson fulfilled a long-sought-after dream when she won the women's Mile at the NCAA Championship meet in College Station, Texas. Her personal record time of 4 minutes, 31.24 seconds upended a loaded field and sent a shockwave through the track & field world.
Few predicted that Nelson, who finished 21st at the NCAA Championship outdoor meet last June, would make such a drastic jump in nine months.
Continue reading at: www.samfordcrimson.com