Q&A with Team USA's Johnny Gregorek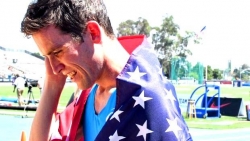 July 21, 2017
Breaking 4 minutes, as well as lowering my PR to become the fastest duo along with my father, was a great feeling.
By Stephen Mazzone, MileSplit MA
For 10 days beginning on Aug. 4, some of the best athletes in the world will be competing in London at the IAAF World Track & Field Championships. Among the elite, and wearing the singlet of Team USA, is our own Johnny Gregorek, a former all-stater from Seekonk High. Since graduating from high school in 2010, Gregorek's career has skyrocketed. He enjoyed a stellar collegiate career, competing for Columbia University and as a fifth-year senior at the University of Oregon. In 2015, he broke 4 minutes in the Mile for the first time, joining his dad, two-time U.S. Olympian John Gregorek, as one of only 10 father-son duos to achieve the "Sub-4" milestone, and the fastest combo.
The younger Gregorek's most recent accomplishment to earn his ticket to the Worlds occurred as a result of his third-place finish in the 1500 meter run at the USATF Outdoor Championships on June 24 in Sacramento, Calif. And he did it in dramatic fashion, coming back from tenth place with a lap remaining to claim the final spot that's heading to London.
MileSplit MA caught up with Gregorek in its latest Q&A feature. Check out what he had to say about his race in Sacramento, his plans for next month's World Championships and his thoughts on his career.
MileSplit MA: Talk about competing in the IAAF World Track & Field Championships? How does it feel to make the trip to London and compete with the best in the world?
Johnny Gregorek: Qualifying for the World Championships was certainly a highlight in my career so far. I don't want to say it was a dream come true because it was something I fully believed I could achieve so it's more like an extreme vindication of hard work and sacrifice as a professional runner.
I couldn't be happier to be representing the USA for the first time internationally on such a grand stage. However, qualifying for worlds is only important because it's a stepping stone to being a competitor on the world stage. Now that I've made it to this stage, I have to be more focused and in better shape than ever. As you said, this is a competition against the best in the world and I'm intent on respecting that fact. The real fun lies in my opportunity to chase a championship medal and prepare myself for future experiences on the world stage.
Continue reading at: ma.milesplit.com