Q&A with Tom Ratcliffe, director of Bannister: Everest on the Track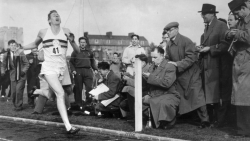 April 13, 2016
Despite all of the acclaim, he's definitely a humble guy who understands the achievement but doesn't let himself get too carried away with it.
By Christopher Chavez, Sports Illustrated
When Roger Bannister crossed the finish line at Oxford's Iffley Road track in 3 minutes, 59.4 seconds on Thursday, May 6, 1954 and became the first person to break 4 minutes for the Mile, his feat entered the history books alongside the coronation of a new queen of England and the conquest of Mount Everest.
It was an accomplishment that people once feared was beyond human limits, yet Bannister defied that notion.
The life of Sports Illustrated's inaugural Sportsman of the Year is now depicted on screen in the new documentary Bannister: Everest on the Track. The film recounts Bannister's life story, from a childhood overshadowed by the terror of German bombings in World War II to the years of accomplishment and influence that followed that historic Mile.
Continue reading at: www.si.com