Reliving Penn Glory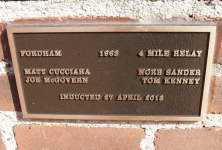 April 28, 2013
By Elliott Denman, Armory Track
"Everybody has a different story," jokes Dr. Norbert Sander. "We're four guys and there are four different versions of how it happened.
"And I guess that's logical. After all, it's been 50 years."
The one thing not subject to debate is that 'Doc' Sander — and his three undersung Fordham University teammates, Matteo Cucciarra, Joe McGovern and Tom Kenney — scored one of the biggest upsets in the 119-year history of the Penn Relays when they won the Championship of America college four-Mile relay title in 16:42.7 at the then-still cinder-tracked Franklin Field in 1963, demolishing the prior Penn record of 17:11.3 — set four years earlier by Penn State — by a whopping 28.6 seconds.
They were saluted as Class of 2013 Wall of Fame honorees at a gala gathering at The Palestra Friday night, and they were saluted all over again — before the huge Franklin Field crowd — on a sun-splashed Saturday program at the classic Penn carnival.
It was the Oregon Ducks first in the 2013 four-Mile relay, which honored the Fordham team — but their 16:17.57 was just 25.13 faster than those '63 Rams — on a track rated "at least a second faster per lap, maybe more than that, than Penn's old cinder track," by Cucciarra, and probably everyone else who was there.
"We were running against some great teams, some real powers," said Dr. Sander. "Teams like Michigan, Georgetown, Villanova, Seton Hall, Notre Dame.
"Fordham? Nobody gave us a chance."
Continue reading at: armorytrack.com