Repeat for elites in Flagstaff Downtown Mile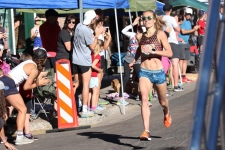 July 04, 2019
Schneider sets course record, Casey defends, record participant turnout at annual 4th of July community event
By Mike Hartman, Arizona Daily Sun Sports Editor
After winning the Flagstaff Downtown Mile for a second straight year, one thing still stands out about the race for Pat Casey.
The elevation.
"It feels good when you are done," the repeat winner of the elite men's race said after the annual event hosted by Team Run Flagstaff on Thursday morning. "It's really hard when you are racing at 7,000 feet, then there's that little hill in there. It's a little hard, but fun."
Fellow Under Armour athlete Rachel Schneider would agree, especially about the fun part.
"This is just a great way to start the Fourth of July. It's an incredible tradition," said Schneider, who broke the course record she set a year ago on the way to repeating in the elite women's division.
Casey clocked a 4:18, getting the win by a slim margin over two other competitors in the elite division. John Raneri took second on the men's elite side and Colin Schultz finished third, both coming in under 4:19 as part of the exciting finish.
"In these road races, you never know what to expect, and this town is a hub for running," said Casey, who was four seconds off the course record that he set in 2018.
Schneider finished in 4:46, besting the record of 4:51 she set in last year's installment. She kicked into another gear halfway through the race to outlast a star-studded field that led to speedy times.
Continue reading at: azdailysun.com