Riverbank's Fernandez Starts Pro Running Career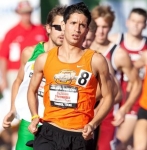 August 19, 2012
Swooshing ahead: German signs with Nike
By Ron Agostini, The Modesto Bee
German Fernandez views his career as sunlight beaming between clouds after a heavy rain.
He is turning the page, as ballplayers say, after what he called a three-year "rough patch" at Oklahoma State. Time to start anew for Fernandez, an NCAA champion targeting glory until illness and a series of injuries sapped his body and spirit.
"I'm going in the right direction to get my momentum and my confidence back," the Riverbank High product maintained this week. "I know I can do special things."
Continue reading at: modbee.com