Rowbury, Uceny, Leer Headline 2015 Camel City Elite Fields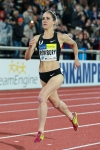 November 04, 2014
Guaranteed $15,000 prize purse for Camel City Mile (men) and Mellow Mile (women) indoors on Saturday, January 31
WINSTON-SALEM, N.C. – JDL Fast Track has announced that two-time Olympian and former Duke University alum Shannon Rowbury, Olympian Morgan Uceny and 3:51 Miler and 2014 World Indoor team member Will Leer will be competing at JDL Fast Track on Saturday, January 31, 2015. Rowbury and Uceny will be competing in the Mellow Mile presented by Mellow Mushroom Winston-Salem, while Leer will be competing in the Camel City Mile presented by Salem Sports.
"We started working in July to identify athletes to headline the upcoming 2015 event. We looked not only at an athlete's credentials, but also their charisma, personality and ability to connect with the fans. Ultimately, we want these headlining athletes to bring additional marketability to the event, and Shannon, Morgan and Will each fit that description," said JDL's facility director Craig Longhurst.
Shannon Rowbury is a 2006 graduate of Duke University, where she was an NCAA indoor Mile champion in 2007 while pursuing her Master's degree. Rowbury is not only a two-time Olympian, but also was a 1500m bronze medalist in the 2009 IAAF World Championships in Berlin. Rowbury is the U.S. record holder at 2 miles and is also one of only two American women in history to ever break 4:00 for 1500m, 8:30 for 3000m and 15:00 for 5000m, all accomplished in 2014. In addition, Shannon has a track Mile PR of 4:20.34, the second fastest American woman ever for the storied distance.
"Shannon has had an incredible 2014," said Longhurst. "When making our short list of candidates to headline the event, we saw her continue to rattle off great race after great race. That, coupled with the fact that she has a background in the ACC made her a no-brainer for an invitation to compete in our event."
Morgan Uceny is a 2007 graduate of Cornell University. Uceny was a member of the 2012 Olympic team at 1500 meters. Uceny won the 2011 Diamond League and was ranked #1 in the world at 1500m and has been the USA champion in 2011 and 2012. Uceny has personal records of 4:00.06 at 1500m and 1:58.37 for 800 meters.
Wil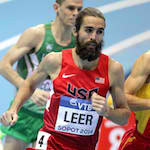 l Leer (left, PhotoRun.net), meanwhile, is a 2007 graduate of Division III Pomona College, where he was the '07 NCAA champion at 1500m and 5000m. Leer won USA indoor national titles in 2013 in the mile and 3,000m events. Like Rowbury, Leer had a stellar 2014 campaign. He won the legendary Wanamaker Mile at the 2014 Millrose Games in a time of 3:52.89. He went on to represent the USA at the IAAF World Indoor Championships and also set his lifetime personal record in the Mile by clocking 3:51.82 in Dublin, Ireland.
Longhurst expressed excitement at getting someone of Leer's caliber and reputation. "Will fits the mold of last year's headliner, Nick Symmonds. Not only does he have great credentials, but he is someone that the average fan can relate to. He will definitely be a big draw for our crowd fund efforts, as I can see a lot of people wanting to meet him and have a beer with him after the race! I just hope he brings his legendary beard with him."
Leer expressed excitement about competing at JDL Fast Track. "There are indoor tracks, and then there are INDOOR TRACKS! After watching last year's even at JDL, I could tell that facility and its raucous crowd made it the latter. I'm pumped to give the track record a run."
Longhurst indicated that JDL Fast Track will now turn their attention to initiating the crowd fund to help fund the nearly $40,000 prize and bonus purse they have assembled. The next steps after launching this year's crowd fund will include filling the rest of the fields in each of the races, not only with professionals, but with collegiate runners.
"The whole idea for Camel City Elite stemmed from trying to prove you could qualify for NCAAs on a flat track. We proved that model last year, and we have already secured commitments from some of the top collegiate athletes in the region. The upcoming 2015 event is sure to be nothing short of spectacular with the additional prize money and these wonderful athletes we have coming in to compete," Longhurst added.
Since 2012, JDL Fast Track has been part of the Bring Back the Mile national campaign to elevate and celebrate the storied distance.
About Camel City Elite
Camel City Elite is a set of elite races held within the larger collegiate Hilton Garden Innvitational. The Camel City Elite races will be held on Saturday, January 31, 2015. The races set to be contested include the men's and women's 800m, Mile and 3000m races. The Mile races have prize money of $4000 for 1st place, $2000 for 2nd place, $1000 for 3rd place and $500 for fourth. The 800m and 3000m races have $2000 / $1000 / $500 prize breakdown. All of the events have an additional $1000 bonus to the winner if they break the current facility records.
About JDL Fast Track
JDL Fast Track, one of the premier indoor track and field facilities in the southeast, is a privately owned, dedicated indoor track and field facility, which opened in January 2012, houses a 200 meter oval track with a Mondotrack FTX surface—the same surface used at the 2012 Olympic Games in London. JDL Fast Track has current seating capacity of approximately 1,700, with future expansion possibilities more than 3,000.
JDL Fast Track will play host to multiple NCAA Division I and Division II conference meets in 2015, as well as serving as the host for the NCAA Division III Indoor Track & Field Championships and USATF Masters Indoor Track & Field Championships.