Run Remembers Late Concord-Carlisle Track Standout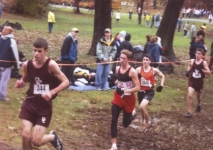 July 01, 2012
By Cindy Cantrell, Boston Globe
RACES FOR ALL: Steve Lane, track and cross country coach at Concord-Carlisle High School, remembers the late Adrian Martinez as a "sweet, good-natured kid who was humble about his ability and accomplishments" as captain of the cross country and track teams, and Dual County League champion in the 1-Mile event.
The 2002 Concord-Carlisle graduate may have projected quiet calmness, but Lane said he was also a dedicated student who thought of others before himself.
Martinez was so conscientious that Lane was surprised when he didn't show up for practice one foggy morning during his sophomore year. Soon a police officer pulled up to inform him that Martinez had been hit by a truck while bicycling to practice, but had insisted the officer find his coach to explain that he had to go to the hospital.
"By the time we got to the hospital, he had already been released," Lane said, "but that gives you an idea of how much he looked out for other people."
Continue reading at: www.bostonglobe.com