Running on Air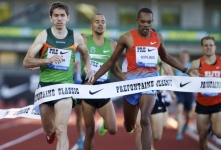 June 16, 2013
By John Casper Jr., Winona Daily News
As his training partners moved away from the San Francisco bay area and his brother went to the Pacific Northwest, Garrett Heath knew where he wanted to go.
The Rocky Mountains.
The former Winona Senior High School state champion and Stanford All-American spent the past several months living and training in Colorado Springs, Colo., where he hopes the thin mountain air will help him earn a spot on the U.S. national team.
"I always wanted to do more altitude training," said Heath, who will compete in the men's 1500-meter run at this week's USA Outdoor Track and Field Championships in Des Moines, Iowa. "I had some experience in the past but nothing longer than three weeks. In order to get the effects of altitude training, you need to be there more than three weeks."
He's hoping the move to Colorado will help him get to Moscow, the site of the 2013 World Championship in Athletics.
Continue reading at: winonadailynews.com